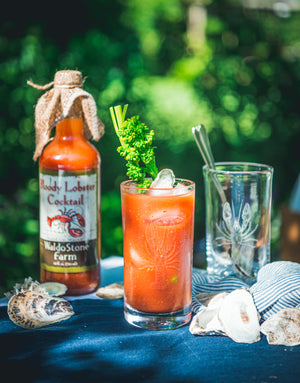 Drinks
WaldoStone Farm Bloody Lobster Cocktail
Drinks
WaldoStone Farm Bloody Lobster Cocktail
The 1934 classic original bloody Mary cocktail recipe was created by Parisian Fernand Petiot and perfected after he traveled to New York and became the bartender at Manhattan's King Cole Bar. This legendary and delicious spicy drink, appealing to Ernest Hemingway and the hangover crowd, is made even better with WaldoStone Farm's Lobster Bloody Cocktail Mix.
Serve with the obligatory vegetable garnish (the broccolini is a step up from celery) and a fresh lobster claw, and this American Prohibition era inspired cocktail delivers a modern mixture of a dozen fresh vegetables, citrus juices, house-made Maine lobster broth, and fresh artisan-made horseradish that is good with or without the distilled spirits. 
Oh, by the way, this is the perfect drink to serve alongside a dozen naked oysters for breakfast, lunch, or dinner. 
Save

to Recipe Box
Remove

from Recipe Box