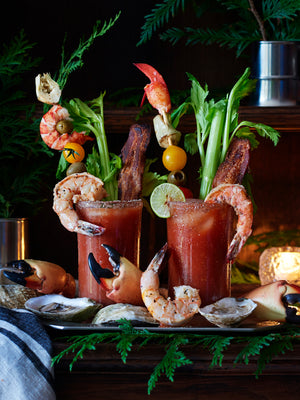 Drinks
Scary Mary Cocktail
Drinks
Scary Mary Cocktail
Is this a drink or a meal? You decide. Either way, this cocktail is the perfect remedy for solving problems associated with toasting and celebrating on New Year's Eve. Like the monarch Queen Mary I for whom this cocktail earned its name, this bloody mary is bold and ambitious. With or without spirits added, the Scary Mary Cocktail mix is for all 
those who love the old fashioned goodness of a straightforward, delicious, spicy tomato forward bloody mary.
 Tomato juice, it turns out, is the perfect elixir
 after a night of imbibing. The electrolytes and vitamin B6 reduce the effects of a hangover while providing the perfect excuse to keep drinking--even if that means getting another party started at 10 a.m. (or earlier!). The addition of seafood, a strip of piggy, and a smattering of sexy vegetables is easy and impressive entertaining at its very best.
Save

to Recipe Box
Remove

from Recipe Box