Champagne & Wine Glasses
Perhaps the most important glass in a barware collection is the wine glass. The fanciest pants of them all, "Come quickly, I am tasting the stars!", champagne flutes and coupes are chameleons that may also be used for serving cocktails.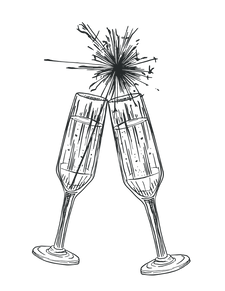 The right wine glass matters in more than just its ability to allow the vintage to breathe, white and red wine glasses should be selected to also be comfortable in the hand, fit lifestyle choice such as whether to buy Simon Pearce formal or La Rochere casual wine glasses that may go in the dishwasher, or something a tad bit more elegant such as MATCH Pewter all-purpose or balloon wine glasses finished with hand-forged pewter stems that must be hand washed.

Nothing sets a mood more quickly than when a host or hostess has bubbly waiting near the door to greet guests as they wander inside for a celebratory (or not!) occasion. We love the MATCH Pewter Champagne Cocktail Coupe for its Old World/New World perfect expression of the intersection of heirloom quality and modern life, William Yeoward Crystal fern etched coupes and flutes for elegant gatherings, but for outside we prefer the Simon Pearce weightier Essex, Cavendish, or Bristol champagne glass collections as they just don't blow over in the wind. Top the home champagne collection off with a MATCH Pewter champagne saber to stimulate conversation and a pewter, glass, or aluminum champagne bucket to keep the bubbles chilled.