Cocktail & Specialty Cups & Glasses
A selection of heirloom quality cocktail glasses is where we like to play around with vintage to get just the right look and feel for serving both classic and modern cocktails.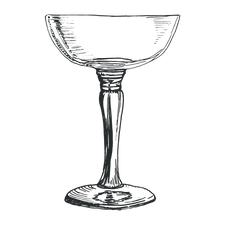 We adore early 20th century American-made etched glass sets featuring Art Deco sensibility that has and always will be associated as a symbol of modernity and luxury. Our repertoire also includes colored Fostoria and Rose Point Cambridge glass, at once coveted for their ingenuity in creating azure blue, pink, topaz, and green glass in both etched and clear bowls with fancy baluster and straight line stems.

Ah, yes, there is a glass for odds and ends drinking that includes the manly MATCH Pewter snifter, digestif and aperitif liqueur, and sherry glasses, and everyday drinking glasses repurposed to serve refreshing frozen cocktails.