Maileg
The intersection of heirloom quality and imagination, Danish founder, Dorthe Mailil, began selling limited-release, soft detailed plush miniature animal toys in 1999. Maileg invites respect for craftsmanship and the daintiness and detail of the finished toys, but that is only a small aspect of their appeal.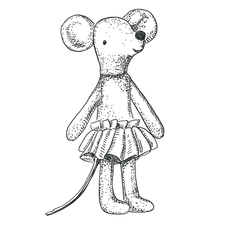 The fantasy of Maileg mice, rabbits, and the miniature clothing, accessories, and matchbox-sized mouse houses is that they offer an opportunity to an alternative life that may be played out in the imagination. Maileg's miniature dreamland helps littles to explore fantasy and possibility in an unplugged simple world in which dreaming, problem-solving, and role-playing create opportunities for children to learn the old-fashioned way.

The play space of the imagination is Maileg's playground and the diminutive prams, kitchens, rabbit and mouse-sized teapots, and a family of diminutive mice, rabbits, and other animals create a safe place for children to explore life's possibilities and develop their empathetic and nurturing human natures. Mice and rabbits may sit together on tiny chairs and share a plate of macarons, or they may race through the kitchen in tiny vehicles, or perhaps, they may all be an audience for a child's production of the Nutcracker in which tiny, but impeccably clothed mice, pirouette and arabesque across a stage.

Maileg values the make-believe world and creates an unparalleled universe for exploring it. At the same time, this Danish company commits to best manufacturing process and reducing its impact on nature and the environment. With a best today, better tomorrow mindset, Maileg is committed to sustainability and works to lower their carbon footprint by selecting environmentally friendly production facilities and planet-friendly global shipping.