Outdoor & Garden Tools
Get your hands dirty with our curated collection of outdoor and garden tools. Highlights of the collection include American hand-forged steel planting trowels, garden rakes, dandelion diggers, and garden forks from Fisher Blacksmithing, the European Wicker Basket Garden Wagon, and the Myrtlewood Garden Trug.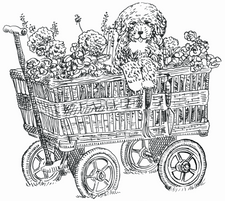 Nowhere more profoundly than in nature are we reminded of the humbling nature cycles of life—the single mound of daffodils smiling from the muddied soil, the rains that bring a form of quietness to the world, and the songbirds who return North and begin sharing their voices before daybreak. The Fisher Blacksmithing steel is heated to 1700 degrees in the forge, shaped by hand with hammer and anvil, joined with solid steel rivets, and then set into a Black Walnut or Cherry hand-turned handle. The envies of the garden, the European Wicker Basket Garden Wagon and the Myrtlewood Garden Trug, offer natural backdrops for the explosion of vibrantly-colored blooms. Featured in the Wall Street Journal, the Myrtlewood Garden Trug may also hold produce at the farmer's market or may serve as a hostess gift when filled with a bottle of wine or aromatic lavender. Other unique gifts for those with a green thumb include a vintage copper, zinc, brass, enamel, or pewter watering can or a pair of Japanese hand-forged branch-thinning scissors. For a whimsical touch, add laser-cut vintage shovels and wreath garden art to your outdoor space. Intended by the artists to be enjoyed as outdoor art, these conversation starters are handcrafted in the USA with a variety of unique, one-of-a-kind designs inspired by the natural world.


Prefer to spend your time on the water rather than in the garden? Gear up with our Sanborn Canoe Paddles for a day on the lake or river. These lightweight paddles made in the USA are offered in a variety of colorways and lengths. For the fly fishing enthusiast, a Vintage Richard Wheatley Aluminum Fly Fishing Box makes a fabulous holiday gift that offers a piece of fly fishing history.