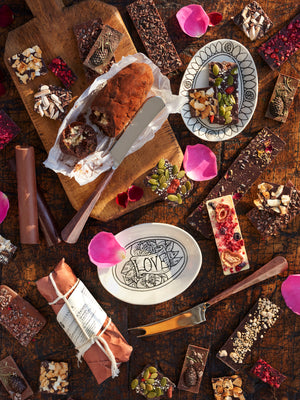 Sweet Things
Tavernier Chocolate Charcuterie Dessert Board
Sweet Things
Tavernier Chocolate Charcuterie Dessert Board
This is less a recipe and more of an extraordinary thing we can do for over the top and easy post-holiday entertaining. This e

arthy, elegant, seasonally-inspired board is from our friends at Tavernier, artisanal chocolate makers specializing in hand crafting something unique and comforting. Their traditional European confectionery techniques are combined with unconventional, adventurous methods that explore rich combinations of single sourced chocolate and spices sourced globally with Vermont dairy. 
Making a dessert board with a variety of Tavernier specialties is a feast for the eyes and the imagination. 
The textured, sliceable saucisson-style ganache logs are made with direct trade single origin chocolates blended with savory ingredients like herbs, black garlic, chili peppers, toasted nuts and spices, and the spreadable pâté-style ganache bricks are blended with Vermont cheeses, raw honey and tree syrups, creating a balanced sweet and savory taste sensation. The chocolate bars are pure, single origin dark, milk & cocoa butter-rich white chocolate couverture paired with delicious fruits, nuts, seeds, flowers & salts in singular harmonious combinations. So many choices, all delicious, and a bit of something for everyone along with a conversation bending discussion over which item on the board is the most delicious, most ingenious, most imaginative creation. 
Save

to Recipe Box
Remove

from Recipe Box