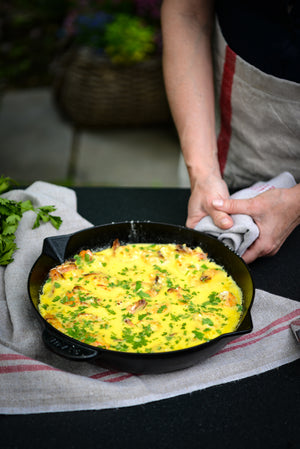 Large Plates
Shrimp Paesano
Large Plates
Shrimp Paesano
In Italian, the name of this dish translates to "peasant shrimp."  It gets its name from the Italian fisherman who, back in the day, would bring home the least expensive catch for the family meal. This preparation, however, is far from common: shrimp are dredged in flour, sautéed until crisp on the bottom and then popped under the broiler to brown the tops. Out of the oven, a velvety textured lemon, garlic, and butter sauce is drizzled over the shrimp. The result is a simple-to-prepare, luxurious meal fit for serving to even the foodiest foodie.
SHRIMP NEWS
Americans eat over one billion pounds of shrimp every year. Wild caught shrimp are sustainable and eating them avoids ecological havoc, health issues caused by antibiotics and pesticides, and coastal community problems such as child labor and land disputes.

EAT GULF SHRIMP
Opponents of wild shrimp assert that the the trawl nets used to bring in fresh catch result in other species being caught in fisherman's nets. As part of federal regulation, all shrimpers in U.S. coastal waters are required to use a turtle excluder device that safely helps guide sea turtles through an escape flap. In order to protect other marine life like red snapper or any finfish, a Bycatch Reduction Device is installed to provide a small opening at the top of the net for fish to escape. Eating shrimp caught in the Gulf of Mexico helps mitigate the environmental hazards of eating shrimp. Eat domestic!

A myth surrounding eating shrimp suggests a negative health impact from the dietary cholesterol of this crustacean. With virtually no saturated fat, nutritionists and scientists agree that eating shrimp does not elevate blood cholesterol and provides a healthy source of lean protein.
KITCHEN NOTES
Keep a close eye on the shrimp while it is under the broiler—shrimp cook quickly and go from golden to burnt in a flash. Any size shrimp is fine for this recipe, but the larger shrimp create a truly impressive finished plate.
Save

to Recipe Box
Remove

from Recipe Box