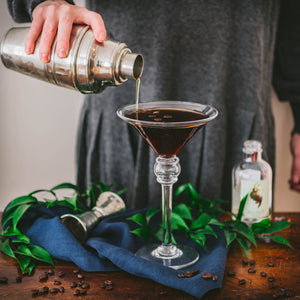 Drinks
Seedlip Spice 94 Espresso Martino
Drinks
Seedlip Spice 94 Espresso Martino
WHAT TO DRINK WHEN YOU AREN'T DRINKING?
Why Seedlip Spice 94, of course! Perhaps not Jay Gatsby's drink of choice, but for those seeking a non-alcoholic cocktail, Spice 94 is a complex, aromatic six botanical combination distilled like gin but minus the fermentation process. A spicy, citrusy, and slightly bitter flavor profile make this a cold, wintry night fabulous non-alcoholic cocktail choice.
Setting out to solve the riddle of "What do you drink when you aren't drinking?", Ben Branson, an entrepreneur with a 300 year old farming heritage, opened the world's first non-alcoholic spirits distillery. Combined with brilliant marketing, gorgeous luxury packaging, and a completely unique concept, Seedlip is now the leading producer of non-alcoholic distilled spirits. Spice 94 is made from distilled allspice, green cardamon, American oak, cascarilla bark, grapefruit, and lemon peel. Inspired by all that is good in nature, Seedlip is naturally free of alcohol, sugar, sweeteners, calories, and allergens.
Save

to Recipe Box
Remove

from Recipe Box