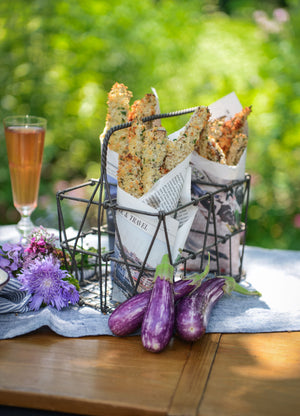 Small Plates
Parmesan Eggplant Fries
Small Plates
Parmesan Eggplant Fries
An eggplant by any other name?
A member of the nightshade family that includes tomatoes and potatoes, eggplant is known around the world by names such as egg fruit, aubergine, brinjal & guinea squash. Eaten as a vegetable, eggplant is technically a berry botanical.
The Chinese began writing about eggplant in 544, and its popularity spread quickly in Middle Eastern and Mediterranean cuisine. In late July, smaller Graffiti and Italian eggplants began arriving in CSAs and local farmer's markets across America. These smaller specimens have fewer bitter seeds and a tender skin that make them perfect for making fries. Before this nightshade grows into larger fruit as the season progresses and generally requires salt to draw out excess water, make these healthy baked "fries". Creamy on the inside and crunchy on the outside, this aubergine dish is a crowd pleasing way to enjoy easy to grow summer vegetables.
Save

to Recipe Box
Remove

from Recipe Box