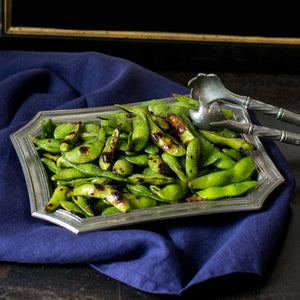 Beginnings
OFYR Edamame with Truffle Salt
Beginnings
OFYR Edamame with Truffle Salt
Sometimes the simplest things are the most delicious. This is an addictive, healthy, fun and easy way to enjoy green on a plate. Edamame are the young, soft, edible soybeans found inside the pod that eventually grow into the dry, hard beans used to make tofu and soy milk. A fabulous protein and fiber packed lip smacking snack, try serving this as an appetizer while the main course is cooking on the grill.
Edamame is Japanese for "beans on a branch." These green soybeans have a nutty, sweet flavor and creamy yet slightly crunchy texture.
KITCHEN NOTES
These nibbles are great, fun and healthy lunchbox editions. If truffle salt and truffle oil are unavailable, try olive oil and sumac, or olive oil and lemon pepper seasoning.
Save

to Recipe Box
Remove

from Recipe Box