100+ New Fall Arrivals
Each season we seek new items for our collections that will surprise and delight you. From blankets and throws, bar and glassware, dinnerware, cookware, flatware, to artwork, candles, pewter picture frames, and host gifts, as well as vintage and antique finds such as baskets, boards, furniture and Old World majolica and ceramics.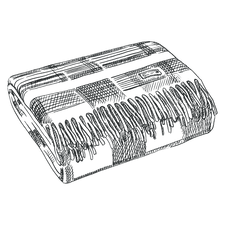 Every item is chosen with the same attention to detail and we pride ourselves in the hunt for everyday extraordinary—goods and gifts procured in uncommon places that are at the intersection of heirloom quality and modern life.

As a values-based business, we donate 1% of gross revenues to 1% for the planet, a global network of businesses that commit a portion of revenue to environmental causes. We are all caretakers of the Earth's abundance, and how we manage our impact on its resources shapes the future for all of us. We are proud to partner with an organization that shares our objectives to nourish and empower our communities while positioning environmental sustainability at the center of charitable efforts

We would love to hear from you about what you would like us to consider as future 'New Arrivals'—especially brands that you love and care about. Until then, we hope you love this all-new living, giving, and entertaining assortment.