OFYR Grill
This Grill Just Wants to Have Fun
Master the art of social grilling and nourish body and soul while entertaining outdoors. OFYR cooking allows us to cook and socialize: a 39" diameter cast iron grill plate provides plenty of room around the grill for a socially connected celebration.
Make New Memories
Around the Fire
Designed to inspire immersive, memory-making dining experiences, the OFYR takes 8000 years of playing with fire and elevates it into a healthy way to cook, socialize, and be safe together at home and outside.
Heart (and Soul) Healthy
The OFYR's virtually non-stick seasoned cast iron surface requires minimal oil for cooking and creates extraordinary tasting food. Whether it is charred and caramelized vegetables grilled directly on the surface, lobsters roasting on the raised grate soaking in the smoky flavor of the burning wood, or gently and quickly seared slices of fish with pots of bubbling sauces keeping company nearby, the OFYR creates an opportunity to nurture social cravings while safely enjoying a food-centered gathering outdoors.

art
/ärt/
the expression or application of human creative skill and imagination
Beautifully crafted of weather-ready steel, the wood burning OFYR is an elevated centerpiece for social outdoor grilling any time of the year--even when the weather turns frigid and all but the polar bears and penguins retreat indoors. The three-piece design encourages transport from the backyard to seaside or mountain to take social (distance) gatherings on the road.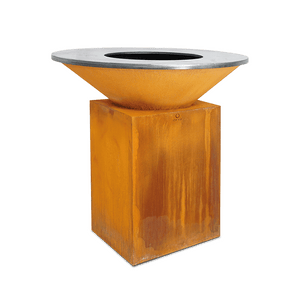 Write it on your heart that every day is the best day of the year.
Ralph Waldo Emerson

We make a life by what we give.
Winston Churchill